Finding Yokohama Kaidashi Kikou and its merchandise
Where to buy YKK merchandise?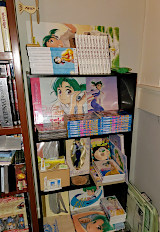 This section summarizes DangeresqueIII's reddit guide with his permission.
As you will be buying from Japanese websites, remember to search for the Japanese title ヨコハマ買い出し紀行.
Here are Danger's favourite sites to buy YKK merch.
ebay.com

Manga, art book, postcard book, DVDs. Other merch rare.

amazon.co.jp

Sometimes cheaper than eBay and slightly more merch, e.g. OSTs, drama CDs, novel.

auctions.yahoo.co.jp

This is where you'll find most of the derivative merchandise as seen in the list below, e.g. cels, figurines, doujin, etc. Browse through Google Translate or a browser translation extension.
Many items do not ship outside of Japan, so you will need to use a proxy service such as Jauce, Buyee.jp or Zenmarket.jp. Here are Danger's pointers for Jauce:
Deposit money into your Jauce account. (As much as you're willing to bid on the item you're interested in)
Place your max bid and wait. If you win the auction with a lower amount than your maximum, you can get the difference refunded (with a fee) or keep it to bid on other items.
As an example, shipping to California takes about a week.